Disaster Preparedness
o    Detection capabilities
o    Response capacity
o    Do you have contingency plans in effect?
o    Do you require mitigation planning assistance?
o    Do you have a modern system in place?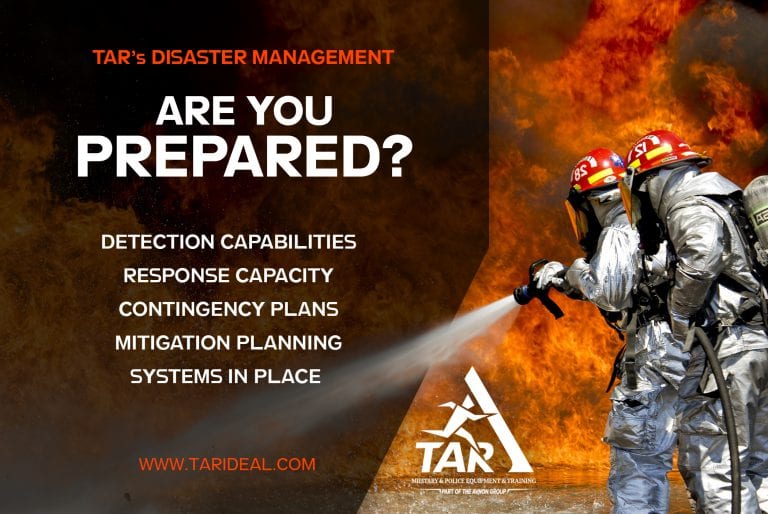 Disasters know no borders. Differences in goals, technologies used and approaches often complicate communication between the different authorities, organisations, and emergency services.
The continued vulnerability of a country effectively managing a large-scale disaster lies primarily with the failure to implement essential lessons learnt from previous large-scale domestic disasters.
A major aspect of any Disaster Management System which arises during the Response phase is the availability of an efficient communication network, where the roles of each First Responder are clearly defined, and promote interoperability in terms of the technology, devices and communication used.
In the past, the lack of coordination among the agencies involved, absence of a single command and control system and scattered and insufficient communication devices with no interoperability have been highlighted, as contributing factors, a fact that has not significantly improved over the last decade.
COMMUNICATIONS
Although the government plays a role in disaster response, First Responders are mostly, local emergency responders, firefighters or law enforcement personnel. To limit high death counts and economic disaster IN THE EVENT OF A LARGE-SCALE disaster, First Responders require the latest systems, communication technologies and training.
FR agencies rely mainly on private mobile companies for communication. During a large-scale disaster, communications lines may be destroyed or crash due to increased demand, or the disaster is located in an area with little network coverage. In such situations, a country might find itself with a complete communication failure during a time when it is needed the most.  The need for independent communication is vital to ensure continued communication.
For the last 30 years, our experts have been helping governments and First Responders across the globe to implement ground-breaking technologies and improve their effectivity during a large-scale disaster.
As part of our First Response Program, we provide extensive training and simulation exercises that help to build relationships and facilitate information sharing amongst the different first responders and organisations.
METHODOLOGIES AND TRAINING
Our team of experts will help to create unified national definitions and standards for all crisis and disasters, whether man-made or natural.
As part of TAR'S Disaster Management Program, we provide extensive interagency training to build relationships and facilitate information sharing amongst the different first responders.  Simulation training and exercises permit to enable you to evaluate new methods and technologies in a low-risk simulated environment before putting them to use in a real-life situation.
EVENT MANAGEMENT PLATFORM
Interoperability is a vital part of successful crisis management.
In the past, the lack of coordination and interoperability between the different response units and agencies involved during large scale disasters such as tsunamis, earthquakes, hurricanes, terror attacks or pandemics, has been highlighted time and again. The absence of a single command and control system, scattered or scant communication devices with no interoperability have caused a failure to effectively manage resources and events; a fact that has not significantly improved over the last decade.
We will ensure that your first responders are working with next-generation communication technology and traffic management systems to facilitate speedy and effective large-scale evacuations. Since traffic personnel are so often out in the field, improved ability to communicate will facilitate a smoother evacuation process.
MONITORING SYSTEMS- THE TAR- LIVE PLATFORM
TAR'S live platform supports the decision-making process; providing the different entities with the tools to analyse information in real-time. Call Takers who have TAR-control calls routed to them; have instant access to crucial information that provides them with a clearer picture of events. In addition, to live video at the scene of critical events, the TAR-Control System gives dispatchers, personal reporter details, pinpoint location and reliability ranking. These details are an essential part of prioritising calls for service and resource allocation. The live feed from events occurring in real-time, along with reliable reporter information allows dispatchers to make more effective decisions and enhance the communication network between the different First Responders.
Are you are looking to establish an effective response and recovery program, update your equipment and technologies and receive training following international standards? TAR's seasoned experts will assess your vulnerabilities and create a disaster management concept designed to meet your specific vulnerabilities and requirements. Ensuring you prepared for the next event.
Contact us to find out more about our First Responder Concept and the latest technologies available.